SAFETY
-COR certified since 2004.
– Alberta Safety Certificate holders.
-In house Fall Protection, Ariel Platform and WHIMS Training.
-Safety on a project requires as much attention dedicated towards it as does the building phase, so all our people are safety orientated and trained with all the OH+S Cor requirements.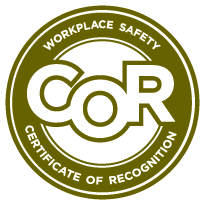 POLICY STATEMENT
SAFETY AND LOSS PREVENTION POLICY STATEMENT
Bay Drywall Inc. is dedicated to achieving a Health and Safety Program that protects our employees and their families, the public, our property and the environment.
To achieve this goal it is the responsibility of every Bay Drywall Inc. employee to set an example of safety excellence with management setting the pace. Provided with this excellent leadership, employees will actively participate and do their share in achieving safety excellence.
Bay Drywall Inc. intends to attain an optimum safe working environment, through proper training, instruction and equipment. It is our goal to become a leader in this Industry not only in safety excellence, but also in providing an unequalled service to our clients.
It is our belief that all accidents can be avoided through proper training, instruction and equipment. It is every employee's responsibility to be familiar with the requirements of applicable Provincial Occupational Health & Safety (OH&S) legislation, this policy and the Bay Drywall Inc. Safety Manual. It is management's responsibility to ensure the protection of our employees, property and the public.